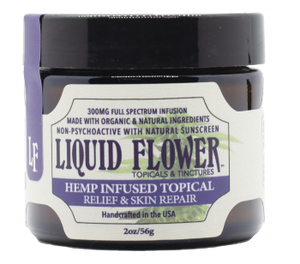 Liquid Flower CBDa Protect, Relief & Repair, our first recipe, was designed as an all-in-one solution, it's beauty, skin care and pain relief in one amazing jar!
All Liquid Flower products are made with a low temperature infusion of whole-plant organic hemp in whipped shea butter. This unique process retains the natural CBDa profile, and allows for the maximum extraction and use of the Hemp plant's full-spectrum healing properties.  

Studies show CBDa to be more powerful at relieving inflammation, the leading cause of pain. This green wonder also effectively combats skin issues such as eczema, psoriasis and so much more!   Oil based balms last longer than lotions and are completely non-toxic.
We carefully formulated CBDa Protect, Relieve & Repair as an effective anti-aging daily moisturizer with natural sun protection.*

Check out our testimonials to hear customer reviews and experiences. 
Liquid Flower smells amazing, and leaves your skin protected, nourished and youthful.  
Product ships within 7 days.
Key Features:  CBDa, Absorbs quickly, Whipped Body Butter, Infused, Organic, Non-Psychoactive.  
Pain & Inflammation, Rich Hydration, Sun Protection, Skin Conditions 
Potency:  300mg CBDa/CBD Full Spectrum    
For use on face and body  
Download COA
Less than .3% THC

*these statements have not been evaluated by the FDA and are not intended to treat or cure any conditions.